Plants vs Zombies Adventures Gem
Submitted by Jin Cova on 25 July 2013 - 2:43pm
Related list
Gem is the most precious currency in PvZ adventures game. The amount give at star is limited (100 Gems), and you will need to waste some gems to get past the initial tutorial when you first play the game. You cannot really 'earn' Gems but thanks to the newly released Brain Ball mode, you can now earn a few if you win the tournament. Gem is created mainly for paid players to gain advantage in the game e.g. to buy VIP items especially the valuable planter box or to skip quests and the boring waiting time.
Plants vs Zombies Adventures Gem – What is the use?
You need Gems for the following purposes:
Buy VIP items e.g. Plants, decorations, planter box
Skip wait time e.g. in growing Plants, training Zombies and Building Houses
Unlock VIP Plant Seeds
Skip quests by NPC
Plants vs Zombies Adventures Gem – how to get?
You can earn Gems in the following ways:
Pay real cash
Rank top in Brain Ball Tournament
Price of the current packages in USD is shown below:
100 Gems costs $2.00 USD
260 Gems costs $5.00 USD
530 Gems costs $10.00 USD
1,100 Gems costs $20.00 USD
2,800 Gems costs $50.00 USD
5,800 Gems costs $100 USD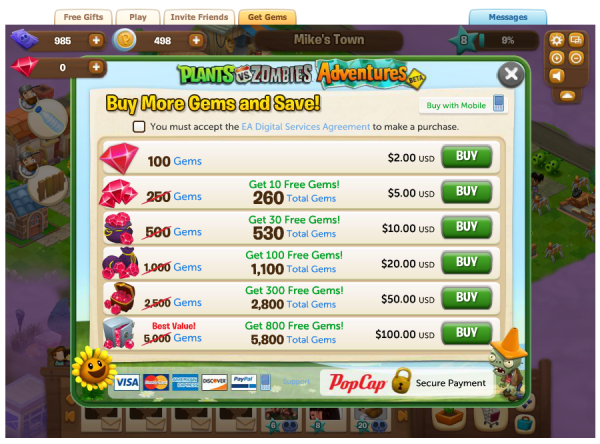 For a complete guide on PvZ Adventures Beta, go here.